Introducing The All New First Team Nissan of Christiansburg!
First Team Automotive Group, with car dealerships in Roanoke, today announced it is expanding to the New River Valley with the acquisition of New River Nissan in Christiansburg. Nissan approved First Team's purchase of New River Nissan from Kim Martin and Mandy Martin. The changeover will occur April 1, 2016.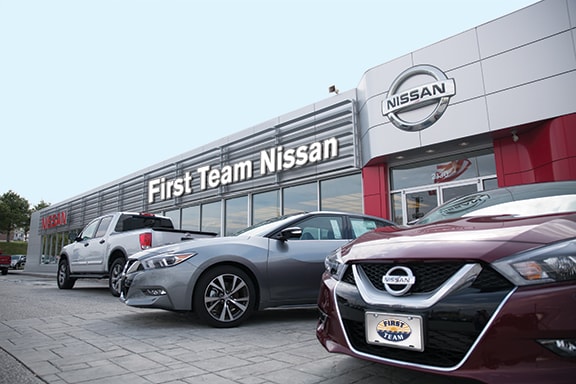 "We are proud that Nissan selected us to represent their brand in the New River Valley and we look forward to continuing the incredible sales and service experience the Martin family has provided for many years," said George Pelton, founder and CEO of First Team. "First Team is a family-run business with deep ties to the Roanoke Valley and now the New River Valley. We are strong partners in the community. New River Nissan has a great reputation for taking care of its customers and team members, and First Team wants to continue that tradition with sales and service in the same location."
New River Nissan, which will be known as First Team Nissan of Christiansburg at 2130 N. Franklin St. in Christiansburg, creates First Team's second Nissan dealership. First Team Nissan of Roanoke is part of the First Team Auto Mall location along with other vehicle brands at 6520 Peters Creek Road in Roanoke. The company also has six dealerships in Hampton Roads.
"For 28 years the Martin family has served the New River Valley with distinction, honesty and integrity, and we are honored to have the opportunity to continue their legacy and have their family become part of ours," Pelton said. "First Team intends to fully honor that legacy of great service and customer satisfaction. Our family-owned culture and approach are similar so this is a merger of equals."
Pelton also says the acquisition benefits customers.
"First Team brings to Christiansburg more volume, processes and other time-tested efficiencies that allow for lower new-car prices, so this offers consumers a great deal of value as the price leader," he said. "We will maintain the same outstanding level of service and parts at New River Nissan, which has an incredible reputation of taking care of our customers. In fact, First Team intends to learn a few things from them."
In addition to lower prices through higher volume, customers will enjoy a wider selection, with as many as 500 new Nissans available to choose from.
"We bring to the NRV our one-price, clean deal buying experience where you can trust us to give you an instant, fair, low price that's completely transparent," Pelton said.
Customers also will enjoy First Team's Values for Life program, which includes engine covered for life, first oil and filter change, state inspections for life, multi-point courtesy inspections for life, and parts and service guaranteed for life.